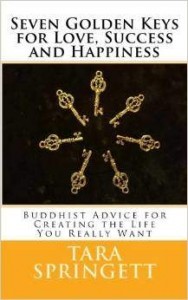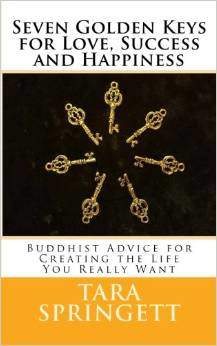 Seven Golden Keys for Love, Success and Happiness

– Buddhist Advice for Creating the Life You Really Want

by Tara Springett
In this book psychotherapist and Buddhist teacher Tara Springett explains how to develop on your spiritual path, leave old hurts behind and manifest your dreams – all at the same time.
You will learn:
How to access your divine nature and experience timeless bliss and wisdom
The secret formula for manifesting your dreams without sacrificing your spiritual values
How to be happy, no matter what is going on in your life
How to let go from all past and present hurts and find deepest fulfilment
Tara Springett M.A. is a fully qualified psychotherapist and Buddhist teacher and has helped her clients and students to find love, success and happiness for over 25 years. She is the author of several self-help books, which have been translated into many languages. Tara has been featured in numerous magazines, radio shows and TV shows in several countries.
Read the introduction of SEVEN GOLDEN KEYS FOR LOVE, SUCCESS AND HAPPINESS here
The book is available as hard copy and kindle version in all good bookshops and on the amazon websites.
Now you can purchase this 256 page ebook as an immediate download for

the special discount price of $ 7.49 (app)/£ 4.99
(25% cheaper than on amazon!)
Check out with paypal:
                                 (14 days money-back guarantee – no quibbles)
Please make sure not to miss the link to the download page at the end of the check-out with paypal!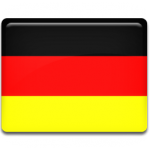 Deutsch